FREE STUFF!
This page contains downloads to help make the scale model photography learning process a little easier. Also, don't forget to check out and subscribe to our YouTube channel where you will find video content, including additional case studies, product reviews, and scale model photography-related information. New content is added on a fairly regular basis, both here and on the channel. Enjoy!

*Please note that content on this page is provided without cost for your personal use only and should not be used, either in whole or in part, for any commercial or for-profit purpose.
Feel free to modify, crop, or edit these downloads as you see fit. You can also use them to order prints for use as physical backgrounds in your photography projects as long as it remains for personal use only. The size of the file and the largest print size that can be ordered without degraded quality are both noted. Right-click to download the full file...
Sky with line of trees
20mb
20x30 inches max
Blue sky with clouds
16mb
20x30 inches max
Blue sky with tree tops
17mb
20x30 inches max
General aviation airport ramp
20mb
20x30 inches max
Small airport access road
26mb
20x30 inches max
Airport ramp near runway
20mb
20x30 inches max
Creating a WWII Aged Photo
JPG file directly off the original RAW file for following along on the video Creating a WWII Aged Photo. The video mistakenly says this is a RAW file. This file download has already been through Camera RAW and had it's shadow's adjusted as demonstrated in the video. Simply open it in Photoshop and continue as though you opened it from Camera RAW. Sorry for the mix-up!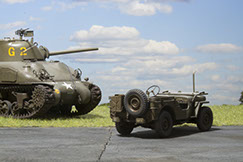 Original JPG files used in the video Replace a Background. These are also the identical photos used in one of the case studies in the book. Care was taken when shooting these photos so that the final composite image would be believable. Read the book to learn how these photos were taken.